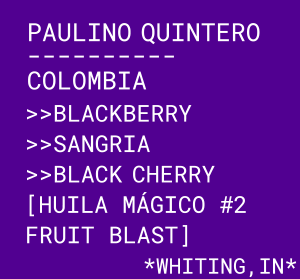 Variety: Caturra
Process: Washed

Sourced by: Coffee Quest US
If you've already tried Flor Betancourth's pink bourbon lot, you know that Huila Magico competition lots from the Coffee Quest US are no joke. Their fruit potential is real and with the right roast, they can be some of the most memorable coffees you'll ever try.
While Flor's pink bourbon lot was enticing for its exceptional tropical fruit characteristics, Paulino Quintero's lot offers the clearest and most outstanding example of one of the most prized varieties in coffee – caturra.
Caturra lots in their best renditions offer a tantalizing fruity combo of berries, saturated dark sugars, and weighty purple fruits. These types of caturra lots offer berry characteristics that are so intense that sometimes I mistake them for naturally-processed lots. In fact, I actually did make this mistake with Paulino Quintero's lot. Don't worry though…it's all the fruity without the funk.
Paulino Quintero's caturra lot is the best I've ever experienced at BOTZ. It's full of ripe berries, aggressively saturated with jammy fruits soaking in sangria, and has a tangy finish that seemingly lingers for hours. If you're looking for a washed coffee that feels like purple electricity (BOTZ's favorite preference in coffee), this is the one! 
***Please note that coffee orders are roasted, processed, and shipped on Wednesdays. The cutoff for orders is 12:00 pm each Tuesday.***