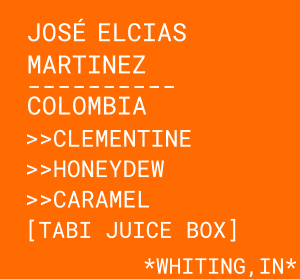 .Variety: Tabi

Process: Washed
Sourced by: Osito
In regards to many of our Colombian microlot releases this year, BOTZ realizes that we've been pretty pink bourbon heavy (which we love haha), but we do strive to offer our loyal brew followers a plethora of varieties to experience the full spectrum of all types of coffee shrubs.
2017 was the first time I experienced the tabi variety, and truth be told, I've been in love with this variety's expression ever since. Personally, I find tabi lots to have typica-esque profiles (deeply refined citrus acidity, floral, and complex) with heavy candy bar backbones.
I was really impressed by the focused nature of José Elcias Martinez's tabi lot on the BOTZ cupping counter. Every sip has a clementine blast – an orangey rush that washes over all your taste buds simultaneously. As the coffee leads to the finish, the orangey sensation turns melonus with a soft, yet pronounced honeydew note. The finish (if the cup wasn't already delicious enough for you) is like milk chocolate and salted caramel. If you're a washed coffee lover after a pointed and clarity-focused profile, I can't think of a better coffee for you!
***Please note that coffee orders are roasted and processed on Saturdays. After a QC session on Sunday, all coffee orders ship on Monday. The cutoff for orders is 12:00 pm each Friday.***