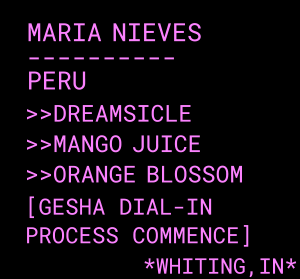 Variety: Gesha

Process: Washed
Sourced by: Yellow Rooster
There are few profiles as enticing to BOTZ as the classic washed gesha profile. While they've been known to offer aromatics and flavors like jasmine, bergamot, and peach, the best washed geshas to BOTZ are endlessly layered, complex, and offer a constantly morphing, yet focused cup experience. After seemingly endless cuppings with an ever-evolving list of flavor calls, we can confidently say that Maria Nieves's gesha is one of the best geshas we've been fortunate enough to roast. 
From creamy orange dreamsicles to strawberry shortcake to dried mangoes, we're confident that Maria Nieves's coffee will have you flavor captivated from start to finish. In combo with its flavor range, this coffee also offers a unique milk tea body and soft toffee candied quality that melds effortlessly with its ripe fruit flavors. You may find your mind pleasantly racing sip after sip as it attempts to connect with your own flavor memories (this after all happens to Danny each time he brews it).
As always, we'd like to thank you for valuing such lovely and inspiring coffees. At BOTZ, we feel rather honored to get to roast coffees like Maria Nieves's gesha, and without you and your passion and excitement for these coffees, these roasting and brewing experiences wouldn't be possible! Again, thank YOU, Botzonia!
***Please note that coffee orders are roasted and processed on Saturdays. After a QC session on Sunday, all coffee orders ship on Monday. The cutoff for orders is 12:00 pm each Friday.***