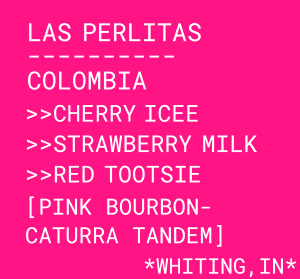 Variety: Pink Bourbon and Caturra

Process: Washed
Sourced by: Coffee Quest US
Pink bourbon and Colombian caturra are two of my favorite varieties ever. If you've followed BOTZ for a while, you may have experienced numerous lots showcasing each individual variety in their purest form. Unmistakably, these are some of the most electrifying lots of the year.
In months previous, BOTZ roasted some of its best pink bourbon lots to date (La Esperanza and Flor Betancourth) as well as a stunning caturra lot from Paulino Quintero. As the green coffee inventory whittled down, I was left with a small amount of each lot. Together, they accounted for one perfect full experimental batch. It was the first time I had ever roasted pink bourbon and caturra intentionally together. I nailed the roast and the result was utterly remarkable. It was pink bourbon elegance meets aggressive caturra jamminess. It almost seemed like the varieties were meant for each other. I drank the 5lb batch of this coffee personally faster than any other coffee I've ever brewed. I became determined to find a lot of pink bourbon and caturra in tandem once again so every Botzonian could experience their variety harmony…Luckily for you, Las Perlitas made its way to the BOTZ cupping table.
Las Perlitas effortlessly combines the best aspects of the pink bourbon and caturra varieties. You'll find an utterly addicting strawberry creaminess characteristic of the best pink bourbons with the overt sugary caturra ripeness of a 32oz cherry ICEE. The finish is just as satisfying as making your way to the center of a red tootsie pop, centered around a combination of red fruits, caramel, and rich chocolate. If you're a fan of BOTZ's roast style in combination with these varieties, this may be one of the most enticing options we've had yet!
***Please note that coffee orders are roasted and processed on Saturdays. After a QC session on Sunday, all coffee orders ship on Monday. The cutoff for orders is 12:00 pm each Friday.***