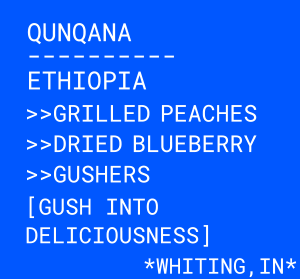 Variety: Ethiopian Heirloom

Process: Honey
Sourced by: Cafe Imports
BOTZ has no biases when it comes to processing. If it hits our taste buds and resonates with our sense of nostalgia, the coffee has a home at BOTZ. I've mentioned before that I find honey-processed coffees to be slightly confounding. Sometimes it seems like a washed coffee and natural coffee are in an intense argument, shouting over each other to assert dominance in the cup. Other times, they harmoniously come together, offering the best versions and characteristics of themselves to create a cup experience that seems other-worldly. Luckily for you, Qunqana represents the latter.
BOTZ loves washed Ethiopian coffees because they provide a sense of vibrancy, extravagant florals, and clear flavors. But BOTZ also prizes naturally-processed coffees for their loud personalities and wavy bodies. Truly, we find it extremely rare for a coffee to offer characteristics from both processes in a way that showcases their best characteristics. The moment I first slurped Qunqana, I knew I had just tasted an exceedingly rare cup profile. Stewed apricot and peach acidity rushed across my palate in a way that resembled the best washed coffees I had tasted from Ethiopia (for BOTZ, there is nothing like dried apricot in coffee). The wavy and flowing body rivaled the heaviest naturals I had tasted. The finish was reminiscent of fresh blueberries and blue gushers. Wholeheartedly, cupping it had me stunned. Truthfully, I'm still trying to wrap my head around it!  
I don't say this lightly, but personally for me, I'm sure this is one of my favorite coffees of the year. Its washed elegance meets natural flavor extravagance. Coffees with this profile are rare, so we hope you enjoy its unique personality and flavor expressions.
***Please note that coffee orders are roasted and processed on Saturdays. After a QC session on Sunday, all coffee orders ship on Monday. The cutoff for orders is 12:00 pm each Friday.***