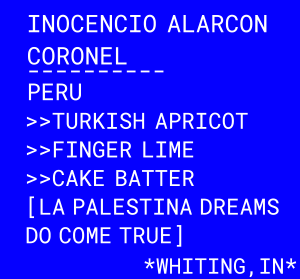 Process: Washed

Sourced by: Origin Coffee Labs
La Palestina dreams do come true.
In 2016, I was searching. With a background in Russian studies and language, I fondly remember my first mini-gig tutoring Russian for a student in Chicago. Traveling from NWI, I'd hop on the Southshore train, read my favorite Russian novels, disembark, and immediately sprint to the Intelligentsia location at Millennium Station (coffee won in my career battle aspirations…haha).
Before hopping on the L to get to my next location, I'd order a pour-over or batch brew without looking at the coffee, take a picture of all the bags without looking at their flavors, and while sipping the coffee on the L, I'd try to guess where the coffee was from and what flavors the roasters found worthy to put on the bags. Most of the coffees I found really lovely, but some of them were truly…"haunters".
What's a "haunter" you ask (not to be confused with the insanely cool Pokémon Haunter)? It's a coffee that so outrageously fits your personal tastes and preferences that it's constantly in reference when tasting other coffees. You might enjoy some coffees, but they'll never imprint themselves like a "haunter".
One coffee that's stayed with me to this day is a La Palestina lot that tasted like apricot, persimmons, and mixed berries. The roast and green were gorgeous and the coffee was unforgettable. From the moment I tasted it, I made it a mission to someday roast a coffee that held the La Palestina moniker to share that invigorating moment when coffee transcends any flavor expectations you could have imagined.
Inocencio Alarcon Coronel's coffee is a BOTZ La Palestina dream come true. It's a stunning coffee with a stone fruit profile and zesty lime hits that mesmerize your taste buds. It's weighty and chuggable. It has a buttery finish that will rival your favorite croissant. With all of its cup attributes in perfect balance, it just might be your next BOTZ "haunter".  
***Please note that coffee orders are roasted, processed, and shipped on Wednesdays. The cutoff for orders is 12:00 pm each Tuesday.***