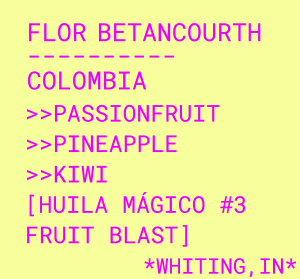 Origin: Finca Cataluña - Pitalito, Huila, Colombia 
Variety: Pink Bourbon
Process: Washed

Sourced by: Coffee Quest US
Every year I await the Coffee Quest's Hulia Magico competition with major anticipation. Frankly, the winners are, for BOTZ, unabashedly some of the highest quality coffees of the year. Unsurprisingly, they're also usually some of Botzonians' most memorable coffee experiences (based on feedback).
As you may know, BOTZ is rather obsessed with the pink bourbon variety. Luckily for us, so is Botzonia. Each pink bourbon offering has opened our minds to new flavor combos and cup characteristics. Berries, apples, citrus – the fruit combos seem endless. Never ever have I, however, experienced passionfruit in the cup. Well, that completely changed when I tasted Flor Betancourth's 3rd place lot (in BOTZ Magico, it's number 1).
Let's be honest – the passionfruit flavor call is an intense one. Passionfruit's flavor is so unique and enticing that putting it on a bag immediately designates a coffee's quality to be stellar. I've hesitated with flavor notes before, but not with this coffee. I believe in its cosmic passionfruit profile.
But how can I be sure? First, the Falloon family is passionfruit (no pun intended) passionate. Bubly, mochi ice cream, fruit bites, fresh passionfruit (when available) – if it is passionfruit, we're trying it (I blame my sister Elena for our passionfruit obsession). Secondly, immediately after cupping, I checked in with one of my coffee superheroines and the coffee industry's coolest people – Sarah at the Quest. I hesitantly mentioned that I tasted a huge passionfruit note from Flor Betancourth's coffee. Her response was – "Exactly, passionfruit was my first note." Lastly, as I type this description, I'm simultaneously cupping the coffee just to be sure. Spoon dip, mega slurp, PASSIONFRUIT. I believe.
Are you ready to take the passionfruit test? Order a bag of Flor Betancourth's immaculately processed coffee and immediately get the easiest "A+" you've ever received. Don't miss this BOTZ pink bourbon special. It might just be our favorite pink bourbon we've ever had (don't tell the others hehe)!
***Please note that coffee orders are roasted, processed, and shipped on Wednesdays. The cutoff for orders is 12:00 pm each Tuesday.***